Promote your Website, eBay Store, or eBay Auction for FREE! Simply fill out the form below with your site's name, link, and a detailed description of what you sell.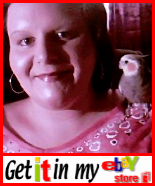 Hi, my name is Tonya and I am the owner of WheresYourBid.com. I have been selling on eBay since March of 2006. With daily hard work and dedication, I became an eBay Powerseller in March of 2007. eBay is my full time job. I absolutely love what I do!
I am a Certified eBay Store Designer certified by eBay and a self-taught graphic designer. I am also a full-time college student at AXIA University of Phoenix studying to get my degree in Graphic Design.
My goal is to help others to get their eBay Stores, Websites, and MySpace Pages promoted, set up, and professionally designed with the proper tools for optimal success!
Please be sure to check out my "Cool FREE Stuff" page to get some FREE Designs, Selling Tools, SEO Tools, Marketing Tools, and so much more! Advertising can also be purchased on all of my pages.
Please feel free to contact me with any questions or suggestions. I will do my very best to answer all emails within approximately 24 to 48 hours.
Be sure to visit WheresYourBid.com as often as you like.
"My desire is to see YOU succeed!"
Blessings to you all,
Tonya
Website: TonyasDynamicDesigns
eBay Store: TonyasDynamicDesigns
Jeremiah 29:11
For I know the plans I have for you," declares the LORD, "plans to prosper you and not to harm you, plans to give you hope and a future. (NIV)